The U1000 features a 4K UHD forward facing camera 2x more vivid than HD resolution.
The U1000 has top of the range capabilities including 'Super Night Vision', a night image correction feature and 'Time Lapse' that dramatically extends the parked recording hours.
The built in Wi-Fi enables you to easily control, manage files and configure settings from your smart device. The Thinkware Dash Cam Mobile viewer app allows convenient access to view and control recordings on your mobile phone or Tablet without the need to remove the SD card.
The U1000 when connected to a smartphone (or cars built in Wi Fi / hotspot) enables cloud connectivity features including, Live view Geo Fencing, Locate vehicle and driving impact notifications The Q800 features a 4K UHD front facing camera and an optional 2K QHD rear facing camera.
Key features:
4K UHD Front Camera
150° Wide Angle View
G-Sensor Incident Detection
Speed Camera Alert
Cloud Service
Built-in Wi-Fi
Optional HD Rear Camera
Super Night Vision 2.0
Time Lapse Mode
Format Free
Win/Mac Viewer
Mobile App
Fully Hardwired installation by our mobile engineers
Thinkware U1000 1 CH 4k
OUR PRICE: £321.00 (inc VAT) plus installation.
U1000 1 –CH Forward facing camera includes 16 GB SD card
Thinkware U1000 2-CH 4k
OUR PRICE: £429.00 (inc VAT) plus installation.
U1000 2-CH Forward and Rear facing camera includes 32 GB SD card.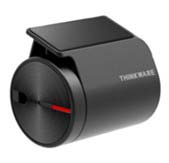 Thinkware Radar for U1000
OUR PRICE: £69.99 (inc VAT)
By adding the optional RADAR sensor, parking mode can be extended even further while still capturing pre-event footage.