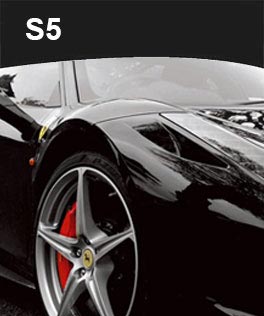 OUR PRICE:
£445.00 Fully fitted, inc VAT.
SMARTRACK S5 - TSC031
| | |
| --- | --- |
| Monthly Subscription | £13.49 |
| Annual Subscription | £159.00 |
| Duration of Ownership | £499.00 |
Buy SMARTRACK S5 »

Subscriptions are taken by Smartrack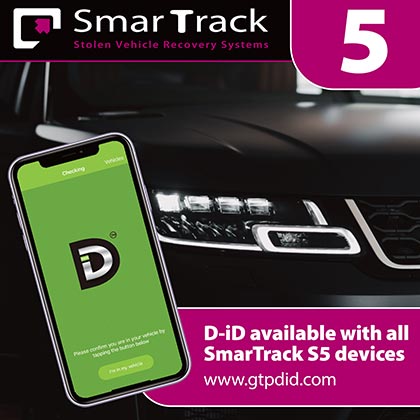 Special Offer
Smartrack S5 D-iD - Only £399.00
learn more...
The Smartrack S5 is the is the new highest approved standard for vehicle tracking systems



The Smartrack S5 tracker meets the Thatcham Security Certification requirements and uses Driver recognition as confirmation that the vehicle is being driven by an authorised driver. If the vehicle moves and no recognition is detected an alert is sent to the Global Telemetrics secure operating centre, who will contact you or any approved contacts on your account to confirm the status of your vehicle.
The minimum requirements for Thatcham TQA S5 approval are:
24/7 Certified Monitoring Centre
A minimum of one means of transmission of signal
Battery Back Up Power Supply
Bi-Directional data transmission
Data logging
Driver Identification Device
Global Positioning System (GPS)
Health Check program
Passively Set
Remote set function
Resistance to attack for a minimum of 2 minutes
Roaming SIM
Vehicle motion detection
---
The S5 offers two choices of Driver Detection
Smartrack D-iD .
Uses Mobile phone app as means of driver recognition.
More info at www.gtpdid.com/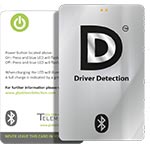 Smartrack D-iDT.
Uses credit card sized driver recognition cards.
More info at www.gtpdriverdetection.com
---
Standard features include:
Thatcham Category S5 Quality Assured
IP67 waterproof device
Secure full fleet online account to view locations of your vehicle
Free Global Telemetrics app to view vehicle location
Monitored 24 hours a day by Global Telemetrics
Battery disconnection/low level battery alerts
Movement alerts
Fully transferable* (Terms and Conditions apply)
Direct Debit for subscriptions (minimum 12 month contract)
3 year warranty (extendable to 12 years*)